Introducing Some Media Player, the comprehensive media player designed for seamless compatibility with both Windows 10 and 11. This versatile player effortlessly supports a wide range of media files and all disc types. With its Playlist feature, you gain the flexibility to curate distinct playlists for various scenarios and needs.

In this tutorial, we cover the following topics: Which media formats are supported? How to play a disc (Audio CD/VCD/DVD/Blu-ray)? How to use local media library? How to refresh local media files? How to create a new playlist? How to add local media files to a playlist? How to play a playlist? How to directly play a media file? How to use Media Player Action Bar? How to use the DVD Navigation Menu? How to adjust video and audio settings?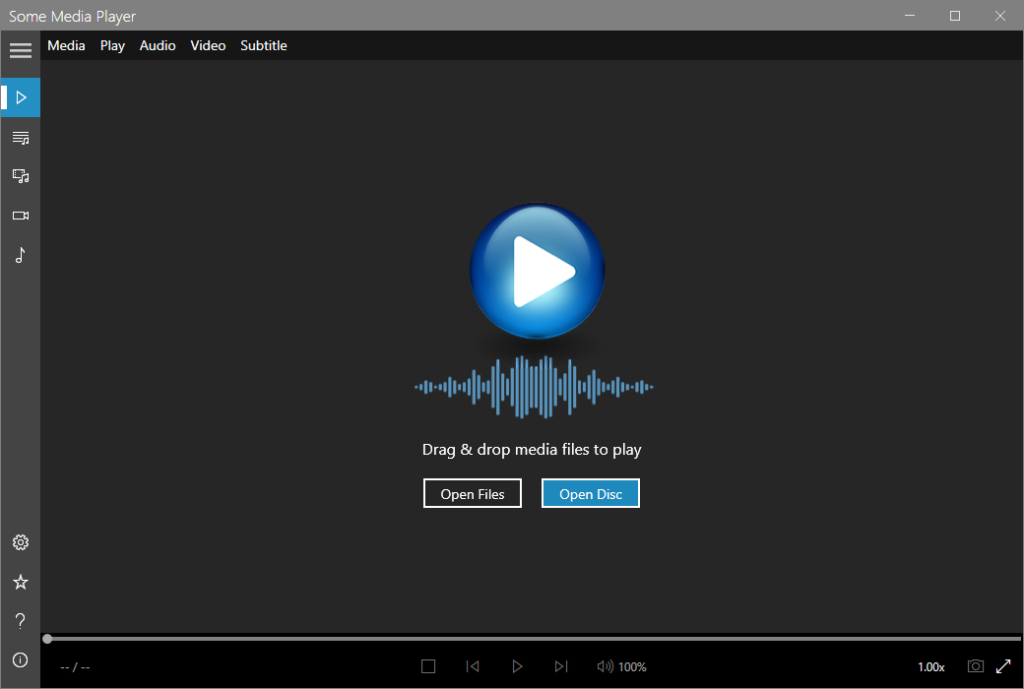 Main Features
Play DVD
Play Blu-ray
Play VCD and Audio CD
Playlists
Play media files
Supported File Formats
Video formats: MPEG-1/2, DivX® (1/2/3/4/5/6), MPEG-4 ASP, XviD, 3ivX D4, H.261, H.263 / H.263i, H.264 / MPEG-4 AVC, Cinepak, Theora, Dirac / VC-2, MJPEG (A/B), WMV 1/2, WMV 3 / WMV-9 / VC-1, Sorenson 1/3, DV, On2 VP3/VP5/VP6, Indeo Video v3 (IV32), Real Video (1/2/3/4).
Audio formats: MPEG Layer 1/2, MP3 – MPEG Layer 3, AAC – MPEG-4 part3, Vorbis, AC3 – A/52, E-AC-3, MLP / TrueHD>3, DTS, WMA 1/2, WMA 3, FLAC, ALAC, Speex, Musepack / MPC, ATRAC 3, Wavpack, Mod, TrueAudio, APE, Real Audio, Alaw/µlaw, AMR (3GPP), MIDI, LPCM, ADPCM, QCELP, DV Audio, QDM2/QDMC, and MACE.