DOCX XLSX and PPTX Suite is an easy-to-use productivity suite for processing text documents, spreadsheets, and presentations. With DOCX XLSX and PPTX Suite, you can not only create and edit Office documents (.DOCX, .XLSX, and .PPTX) but also open many more common document formats.
This online tutorial is a simple tutorial for DOCX XLSX and PPTX Suite users. It covers the following topics: introduction, compatibility, supported formats and components, starting new documents, opening existing documents, saving documents, password protection, closing DOCX XLSX and PPTX Suite, printing documents, and exporting to PDF.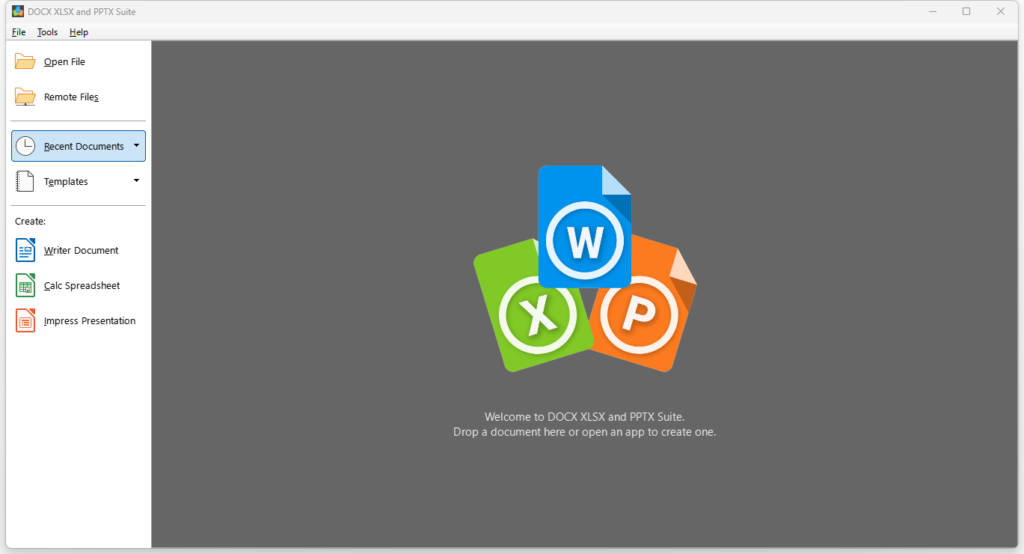 Compatibility
DOCX XLSX and PPTX Suite is totally compatible with Microsoft Office.
Supported Formats
Text documents: .oth, .odt, .ott, .sxw, .fodt, .xml, .docx, .dotm, .doc, .wps, .dot, .wpt, .hwp, .html, .xhtml, .htm, .lwp, .psw, .rtf, .txt, .wpd, .docm, .odm
Spreadsheets: .ods, .ots, .oxc, .stc, .fods, .xml, .xlsx, .xltx, .xltm, .xlsb, .xls, .xlc, .xlm, .xlw, .xlk, .et, .xlt, .ett, .dif, .wk1, .wks, .123, .wb2, .csv
Presentations: .odp, .otp, .odg, .sxi, .sti, .sxd, .fodp, .xml, .uop, .uof, .pptx, .ppsx, .potx, .potm, .ppt, .dps, .pps, .pot, .dpt, .cgm, .pptx, .pptm, .key, .cwk, .sdd
Components
Accordingly, DOCX XLSX and PPTX Suite has three components to process these formats. They are Writer, Calc and Impress.