How to Open an eBook?
There are three ways to open and start to read an eBook document.
Method 1, in the main UI, directly click the link "Open a document".
Method 2, click the open button which is located at the left end of the toolbar.
Method 3, click the menu button then "File" -> "Open".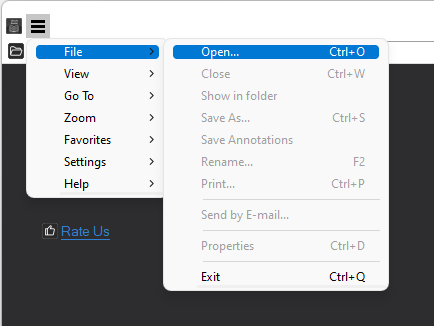 What Document Formats are Supported?
Dark eBook Reader for Kindle Books supports all popular digital publication formats, including:
– .azw, .azw3 (un-encrypted Kindle eBook file format)
– .epub (un-encrypted EPUB)
– .mobi (Mobipocket Reader file format)
– .pdf (Portable Document Format)
– .djv, .djvu (DjVu file format)
– .xps, .oxps, .xod (Open XML Paper Specification format)
– .cbr, .cbz, .cbt, .cb7 (Comic book format)
– .fb2, .fb2z, .zfb2 (FictionBook format)
– .pdb (Palm Doc format)
– .tcr (Psion Series 3 palmtop devices format)
– .chm (Microsoft Compiled HTML Help file format)
– .jpg, .png, .gif, .webp, .tiff, .tga, .j2k, .bmp, .dib (Images formats)
– .tar, .7z, .zip, .rar (Archive file formats)